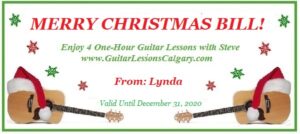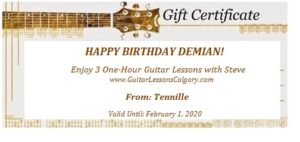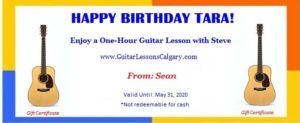 HOW TO GIVE THE GIFT OF GUITAR LESSONS FOR ANY OCCASION!
Step 1. Send by Email Transfer any of the gift amounts listed below to email address: sdaitch@hotmail.com
Step 2. Send an email to sdaitch@hotmail.com with your gift receiver's name and gift occasion (Christmas, Birthday…)
Step 3. A Gift Certificate will be emailed to you, which you can print out or email to your gift receiver.
Gift Amounts:
1 One-Hour Lesson         $100
4 One-Hour Lessons       $380       ($95 per lesson)
8 One-Hour Lessons       $720       ($90 per lesson)
****Merry Christmas!   

Happy Birthday!     Happy Mothers Day!    Happy Fathers Day!****